Here are 58 new additions to Alloway Library's collection. These ebooks fall under the general topic of Religious studies and include apologetics and Christian life material.
Click on any title to view content. TWU log in may be required
A scandalous Jesus: how three historic quests changed theology for the better
/Joseph A. Bessler.
Adam, the fall, and original sin: theological, biblical, and scientific perspectives
/Hans Madueme and Michael Reeves, editors.
Apologetics beyond reason: why seeing really is believing
/James W. Sire.
Basil of Caesarea
/Stephen M. Hildebrand. Brings together various aspects of Basil's thought into a single whole and explores his uniqueness and creativity as a theologian. The volume engages specialized scholarship on Basil but makes his thought accessible to a wider audience.
Big bang big God: a universe designed for life?
/by Rodney Holder.
Blood cries out: Pentecostals, ecology, and the groans of creation
/edited by A.J. Swoboda ; foreword by Steven Bouma-Prediger.
Both-and: living the Christ-centered life in an either-or world
/Rich Nathan, with Insoo Kim.
Broke: what financial desperation revealed about God's abundance
/Caryn Rivadeneira.
Calvinism: a history
/D.G. Hart. Explores specifically the social and political developments that enabled Calvinism to establish a global presence.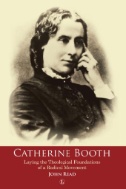 Catherine Booth: laying the theological foundations of a radical movement
/John Read. Catherine Booth emerges as a significant figure from the Victorian era, a British theologian and church leader with a rare if not unique intellectual and theological perspective: that of a woman.
Christ in conflict: lessons from Jesus and his controversies
/John Stott.
Christian theology and African traditions
/Matthew Michael. Sets out to reveal the unique nature of African Christianity and understand Christian theology in the context of the African worldview and traditions which have given African Christianity its unique religious stamp. Michael addresses the crucial obligation of Christianity to engage with African culture as a prerequisite to transforming African theology. He points out that a major flaw of Western missionary Christianisation was its failure to engage with African traditions.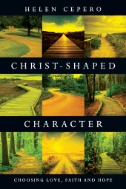 Christ-shaped character: choosing love, faith, and hope
/Helen Cepero.
Confessing the faith yesterday and today: essays reformed, dissenting, and Catholic
/Alan P.F. Sell.
Created to worship: God's invitation to become fully human
/Brent D. Peterson.
Evangelical postcolonial conversations: global awakenings in theology and praxis
/edited by Kay Higuera Smith, Jayachitra Lalitha, and L. Daniel Hawk.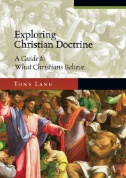 Exploring Christian doctrine: a guide to what Christians believe
/Tony Lane.
Faith and reason: three views
/edited by Steve Wilkens ; with contributions by Craig Boyd, Alan G. Padgett and Carl Raschke.
Festal letters 13-30 /St. Cyril of Alexandria
; translated by Philip R. Amidon, SJ. ; edited with notes by John J. O'Keefe.
Free: spending your time and money on what matters most
/Mark Scandrette, with Lisa Scandrette ; foreword by Richard Rohr.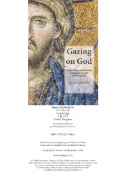 Gazing on God: Trinity, Church and Salvation in Orthodox Thought and Iconography
. Andreas Andreopoulos provides a framework for the theology of experience. Seven select icons are analyzed, in order to demonstrate the theological ideas and themes that may be revealed by studying Christianity through iconography.
God's planet
/Owen Gingerich.
Grand central question: answering the critical concerns of the major worldviews
/Abdu H. Murray.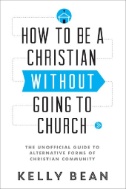 How to be a Christian without going to church: the unofficial guide to alternative forms of Christian community
/Kelly Bean.
Imago Dei: human dignity in ecumenical perspective
/edited by Thomas Albert Howard. An ecumenical conversation around teachings of imago Dei and present-day understandings of human dignity.
Incarnate: the body of Christ in an age of disengagement
/Michael Frost.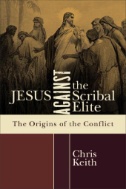 Introducing Evangelical Ecotheology: foundations in Scripture, theology, history, and praxis
/Daniel L. Brunner, Jennifer L. Butler, and A. J. Swoboda. Explores the global dimensions of creation care, calling Christians to meet contemporary ecological challenges with courage and hope.
Jesus against the scribal elite: the origins of the conflict
/Chris Keith. Argues that, in addition to concerns over what Jesus taught and perhaps even how he taught, a crucial aspect of the rising conflict concerned his very status as a teacher.
Jesus and the politics of Roman Palestine
/Richard A. Horsley.
Just hospitality: God's welcome in a world of difference
/Letty M. Russell ; edited by J. Shannon Clarkson and Kate M. Ott.
Luminous: living the presence and power of Jesus
/T. David Beck.
Making spiritual progress: building your life with faith, hope and love
/Allen Ratta ; foreword by Larry Osborne.
Pilgrimage through loss: pathways to strength and renewal after the death of a child /Linda
Lawrence
Hunt.
Postmodern and Wesleyan?: exploring the boundaries and possibilities
/responses by Leonard Sweet ; Jay Richard Akkerman, Thomas Jay Oord, Brent D. Peterson, editors.
Practicing Christian doctrine: an introduction to thinking and living theologically
/Beth Felker Jones. Explains key concepts in Christian doctrine and shows that doctrine is integrally linked to the practical realities of Christian life. Written from a solidly evangelical yet ecumenically aware perspective, models a way of doing theology that is generous and charitable. It attends to history and contemporary debates and features voices from the global church.
Questioning your doubts: a Harvard PhD explores challenges to faith
/Christina M. H. Powell. Using personal stories from her own life, she explores how faith can be rooted in rationality, knowledge and facts, while coming to recognize the limits of science in evaluating matters of faith.
Renovating rhetoric in Christian tradition
/edited by Elizabeth Vander Lei, Thomas Amorose, Beth Daniell, and Anne Ruggles Gere.
Resurrection of the flesh, or, resurrection from the dead: implications for theology
/Brian Schmisek.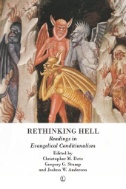 .
Rethinking Hell: readings in evangelical conditionalism
Rock of Ages?: the changing faces of the Christian God
/John Butler. Opens with the emergence of the biblical God from the pantheon of deities in bronze age Canaan, and culminates in the radical images of God that were appearing at the end of the twentieth-century, providing a historical overview of the different and sometimes conflicting ways in which God has been understood.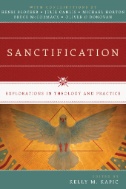 Sabbath as resistance: saying no to the culture of now
/Walter Brueggemann. Brueggemann writes that the Sabbath is not simply about keeping rules but rather about becoming a whole person and restoring a whole society. Importantly, Brueggemann speaks to a 24/7 society of consumption, a society in which we live to achieve, accomplish, perform, and possess. He shows readers how keeping the Sabbath allows us to break this restless cycle and focus on what is truly important: God, other people, all life.
Sanctification: explorations in theology and practice
/edited by Kelly M. Kapic.
Saying is believing: the necessity of testimony in adolescent spiritual development
/Amanda Hontz Drury.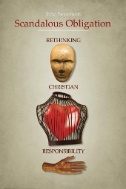 Scandalous obligation: rethinking Christian responsibility
/Eric Severson.
Spirit and trauma: a theology of remaining
/Shelly Rambo.
Table in the darkness: a healing journey through an eating disorder
/Lee Wolfe Blum. 2014 Readers' Choice Awards Honorable Mention
Taking Stock of Bonhoeffer: Studies in Biblical Interpretation and Ethics
. Stephen Plant's scholarly engagement with Bonhoeffer's life and theology makes accessible distinctive perspective on Bonhoeffer's theology, in particular on the key themes of biblical hermeneutics, ethics, and the intimate connections Bonhoeffer discerns between them.
Ten: words of life for an addicted, compulsive, cynical, divided, and worn-out culture
/Sean Gladding
.
The answer to bad religion is not no religion: a guide to good religion for seekers, skeptics, and believers
/Martin Thielen.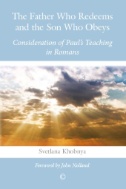 The atheist's fatal flaw: exposing conflicting beliefs
/Norman L. Geisler and Daniel J. McCoy.
The Father who redeems and the Son who obeys: Consideration of Paul's Teaching in Romans.
Balances the Christological perspective on God's nature with the image of God the Father that has its roots in the Old Testament, and is more prominent in the Second Temple period than sometimes acknowledged.
The future of evangelical theology: soundings from the Asian American diaspora
/Amos Yong.
The Jesus prayer: a cry for mercy, a path of renewal
/John Michael Talbot.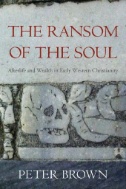 The ransom of the soul: afterlife and wealth in early western Christianity
/Peter Brown. Explores a revolutionary shift in thinking about the fate of the soul that occurred around the time of Rome's fall. Peter Brown describes how this shift transformed the church's institutional relationship to money and set the stage for its domination of medieval society in the West.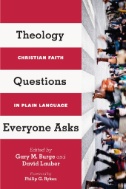 The Westminster dictionary of theological terms
/Donald K. McKim. Provides a comprehensive guide to nearly 7,000 theological terms, also includes cross-references that link readers to other related terms, commonly used scholarly abbreviations and abbreviations for canonical and deuterocanonical texts, an annotated bibliography, and a new introductory section that groups together terms and concepts, showing where they fit within particular theological categories.
Theology questions everyone asks: Christian faith in plain language
/edited by Gary M. Burge and David Lauber.
Things your mother never told you
/Kim Gaines EcKert.
True paradox: how Christianity makes sense of our complex world
/David Skeel.