Christianity Today recently published
The Best Books to Read for Lent (That You Won't Find in a Christian Bookstore)
. It's a pleasure to note that you will find nearly all them right here at Alloway Library. Click on the title to view more information about our resources (TWU login may be required)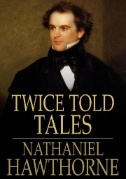 Twice told tales
Nathaniel Hawthorne (print & eBook)
Gregory Wolfe of Image journal calls Hawthorne America's "first great Christian writer." And indeed, in this early collection of short stories we encounter an 18th-century writer who seeks, in Wolfe's words, to "locate [the power of evil] in the human heart, in opposition to an age that wanted either to deny evil or locate it within human institutions."
CT
Emma
Jane Austen (print, eBook)
Jane Austen's ability to probe the complex psychology of self-deception makes her one of the greatest novelists of all time. In Emma, we are given a bright, wealthy, generally good-hearted young woman who has developed the bad habit of manipulating relationships at others' expense.
CT
Crime and Punishment
(print, eBook)
Lent is hardly complete without Dostoevsky's candlelit tableaux in Part IV, Chapter IV, of "the murderer and the harlot who...so strangely encountered each other in the reading of the eternal book."
CT
A 15-year-old girl named Kambili, lives in a household of devastating contrasts. Her father is a successful businessman in Enugu, Nigeria, revered for his charitable giving in their local Catholic parish; and he yet violently punishes his wife and children when they fail to live up to his extreme religious expectations.
CT
Offers a convincing glimpse of resurrection hope that few novelists have given the literary world.
CT
Be warned: this book will make you want to dig in your own "bit of earth," humming strains of the Doxology as winter gives up its hold on creation.
CT
Hopkins' poetry is often an attempt to talk himself out of himself, as in the poem "My own heart," where he advises his soul to "lét be; call off thoughts awhile." Instead, he says, look up, look out at this amazing world, where something like a windhover (in his famous poem by that name)—a "dapple-dáwn-drawn Falcon"—becomes not only a thing of wonder but a source of a praise "to Christ our Lord."
CT
We don't have three of the titles on CT's "Best Books..." list, but we do have works by their recommended authors.
CT recommends
Deaths & Transfigurations by
Paul Mariani.
May we suggest:
Thirty days : on retreat with Exercises of St. Ignatius
(print) by the same author.
At the time of its writing, Mariani was at a decisive turning point in his life...Through his own deeply personal meditations and thoughts, readers may consider how they, too, might go about looking for God's will. They will also be introduced to the heady Spiritual Exercises in an accessible way.
And, instead of the Irish-set
Brendan: A Novel
by Frederick Buechner, try Buechner's Pulitzer-
nominated
Godric
about a different saint, of the same era, set in Northumberland.
"In the extraordinary figure of Godric, both stubborn outsider and true child of God, both worldly and unworldly, Frederick Buechner has found an ideal means of exploring the nature of spirituality. Godric is a living battleground where God fights it out with the world, the Flesh, and the Devil."