Access to these resources is made possible by a generous donation from the Trinity Western University Graduate Student Association.
__________________________________________________________________________
The Cambridge companion to modern Arab culture / edited by Dwight Fletcher Reynolds.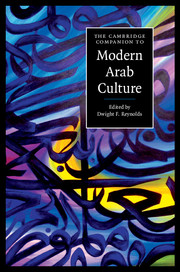 Summary:
Dwight F. Reynolds brings together a collection of essays by leading international scholars to provide a comprehensive and accessible survey of modern Arab culture, from the early nineteenth to the twenty-first century. The chapters survey key issues necessary to any understanding of the modern Arab World: the role of the various forms of the Arabic language in modern culture and identity; the remarkable intellectual transformation undergone during the 'Nahda' or 'Arab Renaissance' of the late nineteenth and early twentieth century, the significant role played by ethnic and religious minorities, and the role of law and constitutions. Other chapters on poetry, narrative, theatre, cinema and television, art, architecture, humour, folklore, and food offer fresh perspectives and correct negative stereotypes that emerge from viewing Arab culture primarily through the lens of politics, terrorism, religion, and economics.
Contents:
Modern Arab culture: introductory remarks / Dwight F. Reynolds -- The question of language / Kristen Brustad -- Religious and ethnic minorities / Andrew D. Magnusson -- Nahda: the Arab project of enlightenment / Yoav Di-Capua -- Law / Joseph E. Lowry -- Poetry / Shawkat A. Toorawa -- Narrative / Muhsin Al-Musawi -- Music / Scott Marcus -- Cinema and television / Andrew Hammond -- Theater / Dina Amin -- Art / Nuha N. N. Khoury -- Architecture / Nasser Rabbat -- Humor / Devin Stewart -- Folklore / Dwight F. Reynolds -- Food and cuisine / Juan E. and Magda Campo -- Migration and diaspora / Christina Civantos.
Click here
to read this ebook title (authentication required)