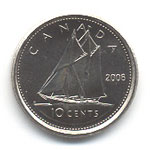 In a recent survey by University of Victoria's David Brown, Alloway Library had the lowest overdue book fines out of twenty western Canadian university libraries.
Just two dimes a day is all it takes to pay for overdue book fines at Alloway Library.
The highest rate was $1 per day charged at ten institutions, including SFU, UBC and King's UC. Eight libraries dinged users $.50/day, and a couple more were just a nickel more than Alloway Library's fine rate of only $.20/day.
The survey also showed that when an item is deemed lost, eight institutions charged a processing fee that was higher than the $10 levied by Alloway Library and only one charged less than that amount. Most libraries charge for the actual cost of the book plus a processing fee that represents associated cost of ordering and preparing an item to go into the collection. At the University of Alberta library, the cost of losing any book
starts
at $150 and at the University of Northern BC a flat fee of $100 per lost item is assessed.
Fine rates are set by libraries to ensure the timely return of material for other users. The survey didn't include other aspects of fine policies, but you should know that Alloway Library automatically waives fines under a dollar. Fair fine policies are another way that we work with researchers using our resources.