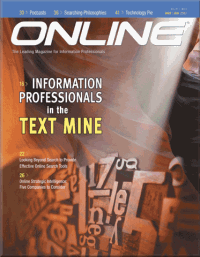 Online Magazine
, a major American trade publication for information professionals, has asked
TWU
Associate Librarian Bill
Badke
to become a regular columnist in the area of information literacy. His column, entitled
InfoLitLand
, begins with the May/June 2007 issue and will appear six times per year.
In his first column
Badke
writes
...being an opinionated advocate of information literacy can bring you terrific opportunities. Being asked to write for ONLINE on the subject of information literacy is one of those, and it's a distinct honor.

TWU borrowers with access to Alloway Library's databases can read all of Bill's first InfoLitLand column online.